OUTDOOR & INDOOR PUBLIC & PRIVATE
Gretchen offers various services for muraling, from indoor and outdoor to corporate and personal. Since painting her first wall in 2013, she has completed over 150 murals for a variety of clients on various projects: interior design and architecture firms (for clients), doctor's offices, corporate offices, bars, breweries, restaurants, hotels, fire department, schools, and private homes.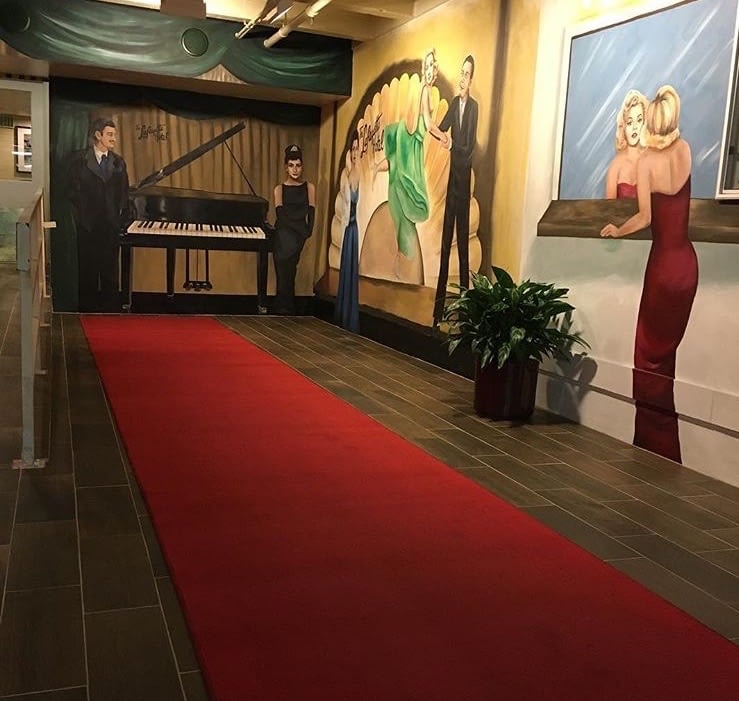 TRADITIONAL MURALS
Traditional murals are standard murals—no gimmicks, just beautiful art and design. These murals can be designed to be viewed from far away (outdoor murals) or close up in smaller spaces (indoor murals).
LOGO MURAL TRANSFERS
Painting your logo onto your wall adds class and craft to your business. From restaurants and bars that want to highlight its own or a vendors logo, to businesses that want its logo painted on its lobby walls, transferring logos is an art. Gretchen has experience with both simple and more complex logo designs.
CEILING MURALS + CANVAS OVERLAY
Canvas overlay murals are a unique process that is great for adding extra depth and interactivity to a mural. The wall is still painted, but in addition, certain focal elements will have a canvas installed over it and painted to make it look like it's part of the mural. The canvases can be made permanent or removable.
Ceiling Murals are also available at special request
INTERACTIVE MURALS
Let your customers be your brand ambassadors. Interactive murals are designed to encourage engagement and interaction with its viewers and visitors (your customers). This style is great for brands and businesses that want to get their clients and customers interacting with its brand on social by sharing, posting and tagging on Instagram, Facebook, Twitter and any other social media platform.
TEMPORARY MURALS
Temporary murals are only meant to be displayed for a short period of time—if its either painted over afterwards or painted on a moveable surface such as wood, plastic, or fiberglass. Temporary murals are a great choice when you don't want something permanent. Temporary murals are great when they are accompanied by a live event and viewers can watch as the mural develops. Good for neighborhoods, art walks, and festivals.
FLOOR MURALS
Some mural designs may require overflow to get its message across, and often times this requires the application of floor murals. Gretchen has the talent and experience to make your murals jump off the wall. She uses special techniques to help keep your mural looking fresh despite high foot traffic areas.